Spring is officially here, which means Summer is only just around the corner. Although the weather has been up and down, it is clear to see the Sun is finally making an appearance throughout the days. With this said, it is time to raid your cupboards and bring out the sunnies! =P
However, it also means shopping for new trends and colours to make your sunglasses eye catching and stand out from the crowd. When buying sunglasses, you have to be very sure that the style suits the shape of your face, otherwise it could all go drastically wrong.
You can find the right shape for your face in my guide which will be posted soon, but in the meantime i've searched the internet for styles that have caught my eye. Firstly, i'm showing you my Top 5 designer brands which i adore and will be investing in! Remember, sunglasses may alter their style each year, or change their colour etc BUT bringing out the shades you bought in previous years is also a great way to vamp up any outfit, as they become 'vintage' as such and make you stand out in the crowd.
If you are investing in a pair of designer shades, then be wise with what you choose and look out for classic styles which can be worn year after year ( this way you will definitely get your moneys worth ).
My Top 5
Ray-Ban Folding Wayfarer Sunglasses £140.00 ( asos.com )
available in Black as well as these Light Havana
Ray-Bans are increasingly popular shades each year, and are seen on a whole range of Celebrities including Tinie Tempah. These are the traditional style and can be worn each year, and still be on trend. I LOVE the print of these ones, but if you aren't a fan of the print these are also available in black and a whole host of other colours from different retailers.
Medium Square Framed Sunglasses with Heart Shaped Inter-locking G Logo £175
( gucci.com )
[ grey/black also available in burgundy and brown ]
i LOVE this style of sunglasses, and the range of colours are sophisticated and can be worn with any outfit. They are a real show stopping piece of eye - candy, simple but sophisticated. =] i like the heart shaped logo, it makes the frame cute and girly.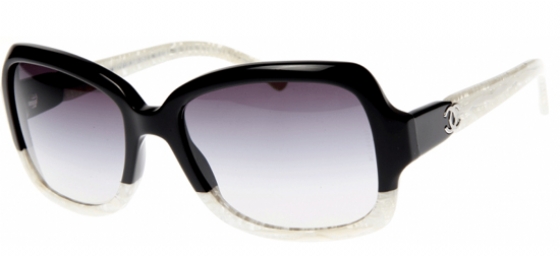 Chanel 5177 sunglasses £140 ( www.pretavoir.co.uk/chanel )
[ this website offers free UK delivery ]
i like the unusual mix of these glasses, the dark on the top with the light bottom. They are very simple, but are very on trend and could be worn with any outfit. They have a simple 'Chanel' logo on the side which is a very cute detail.
D- Shape Prada Acetate Sunglasses £185 ( net-a-porter.com )
These sunglasses are so colourful and make a great summer accessory. The colour is very on trend, orange, which is eye catching and mixed with the black and white they look very sophisticated. The style is quirky and very wearable. Styles like this have been seen all over the Fashion catwalks, obviously including Prada's itself. =]
D&G Violet 6077 Sunglasses £129 ( sunglasses-shop.co.uk )
i ADORE these, the colour, the shape, the style, everything about them is amazing. They are so on trend with the violet colouring and the simple D&G logo on the side is very pretty. =] I am definitely investing in this pair of shades. And for such an elegant pair, they are not badly priced.
This is just highlighting the designer shades that i love and have found. Remember the internet has a vast amount of sites showcasing a whole load of sunglasses, all you have to do is look around.