As we have seen over the last couple of months, nail art is a BIG trend that is loved by everyone and can be seen worn my many A-List celebrities. Nail Art can come in many styles and you can be extremely creative when it comes to it, as in reality anything goes.
You can mix any colours, any patterns, add glitter, sparkle or 3D bows, flowers, the list is endless. Because of all the many different nail polishes, nail art pens etc you can go WILD ...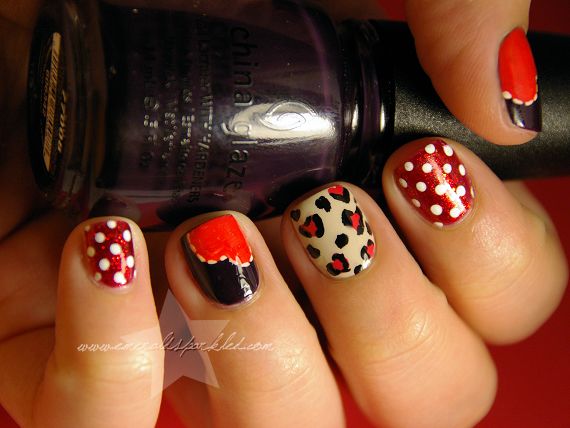 Nail Art - Black/Red/White/Animal Print
As well as being creative with just nail polishes themselves, you can add any detailing you like including gems, diamante's and even patterns.
Be As Creative As You Like =]
You can also buy Nail Wraps from many leading retailers including Boots, Superdrug, New Look as well as online. These are simple to use but can take some practice and also some patience, but you can get some amazing results from them.
Various Style Nail Wraps
BUT .. the new trend that is hitting the red carpets in recent months is the 'Christian Louboutin' nail. This has been seen on the lovely Adele at the Grammys.
Adele =] (Check out the nails and matching lipstick)
With the Christian Louboutin Nails you simply select a coloured polish for the top of your nails (which you can add sparkle to like Adele) and then with a Red coloured polish paint the underneaths of your nails ( or false tip extensions ) and like magic the effect is created. This will only if you have a substantial length nail, or false ones so that it can be seen.
First prep the nails filing it to a round point to give it the extra detail
Next, paint the top side of the nail in any colour you wish and allow to dry. You can then add a touch of sparkle and glamour if you wish.
Once dry, apply the red nail polish to the underside of the nail tip ( have handy a cotton bud soaked in nail varnish remover to get rid of any excess polish that may go on your skin )
Once this has dried, you can apply a clear top coat to the top and bottom of the nail to make sure the polish lasts a bit longer.
And there we go, Christian Louboutin style nails in no time and easy to do yourself.