So, Kanye West has released his Fashion Collection to the world. ( i will be blogging about this _ bare with me ) .. BUT this one is dedicated to the Glamorous dressed Kim Kardashian who turned up and was by his side rocking these AMAZABALLS Giuseppe Zanotti pearl-encrusted killer heels which cost a massive £3,600! ( yes - i was shocked too but just check these beauties out )
Now aren't they just fabulous! I have major envy over these and wish i could cop my self a pair! ( i best get saving a bit first ha )
As Giuseppe Zanotti is an amazingly talented designer, this is of course high-costing stuff. But if you fancy a look at some of his collections of shoes, bags and more head to ...
[ www.giuseppezanottidesign.com ]
Here's a sneak peak at whats to offer online ...
£1,340. Heel-less peep toe embellished shoes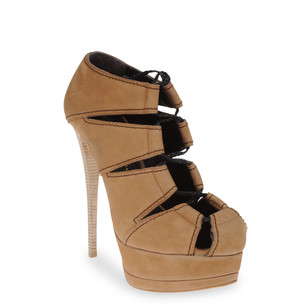 £805 Lace up booties in Hazelnut
£485 Black patent sandals with a maxi cork wedge
For more amazing styles check out his site! You won't be disappointed.